Synopsis
In the broken country that is Zimbabwe, only the strongest can survive.

Three families – the Bryants, the Quilter-Phipps and the Ngwenyas – share a history as complex and bloody as the country itself.

Dedicated conservationists Paul and Philippa Bryant face an enormous struggle: to save their farm and small herd of endangered black rhinos from corrupt government minister Emmerson Ngwenya. Twin brothers, ex-soldier Braedan and environmentalist Tate Quilter-Phipps join the fight.

But the brothers' own history is fraught, and when they fall in love with the same woman, Natalie Bryant, their rivalry threatens to not only derail the attempt to save the rhinos, but also puts the lives of all involved at risk. And with Emmerson vowing to stop at nothing until he has control of the farm, a bloody showdown seems inevitable.

With blood feuds still to settle, every one of these players will be drawn into the fray, and not one will remain unscathed.

"For lovers of great African adventure tales that also contain a strong educative flavour, Tony Park has become required reading."
Sydney Daily Telegraph

Behind the Scenes

A good friend of mine, a farmer in Zimbabwe at the time, asked me one day, "won't you please set one of your books here and tell people around the world what's happening?"

Zimbabwe was one of the countries my wife and I visited on our first trip to Africa, in 1995, and it captured a piece of our hearts right from the start.

By the time I had bought my first Land Rover for travel in Africa, in 1998, the disastrous program of farm invasions had begun in Zimbabwe.

In a bid to fast-track land redistribution (and shore up his own hold on power), former President Robert Mugabe opened the floodgates and allowed seizure of white owned farms without compensation.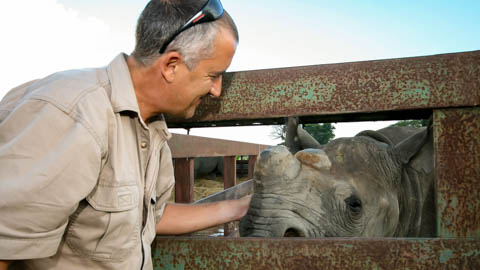 Here's me with a hand-reared orphan black rhino at a rhino breeding ranch in Zimbabwe. This place provided the inspiration for Paul and Pip Bryant's farm in African Dawn

I witnessed the devastating effects of this ill-thought policy as farms across the country were taken, looted and left to become overgrown and useless. I also witnessed angry confrontations between so-called 'veterans' of Zimbabwe's liberation war (in reality too young to have served) and farmers.

In 'African Dawn' I picked up the story of the characters I'd created already in 'African Sky', which was set in Rhodesia (now Zimbabwe) during the Second World War.

I fast-forwarded the story 14 years on from the end of the war to 1959 and the damming of the Zambezi River to form might Lake Kariba, for the opening scene of 'African Dawn'. From there the book tracks the lives of three families and the history of Zimbabwe to recent times.

If you've read my books you know I'm passionate about Africa's wildlife so it seemed that if I was following the history of a troubled country it might be a good idea to have a sub plot about a species in trouble. Rhinos seemed like the obvious choice.

As happens, often, when I'm writing, real life turns up something more bizarre, scary, or tragic than I can invent in a novel. While I was working on 'African Dawn' there was a terrible attack on a black rhino breeding ranch in Zimbabwe were several rhinos were killed in their pens, for their horns. I worked this into the story to shine a light on this heinous crime.

"Park's obvious role model is that great master of the colonial epic, Wilbur Smith. whose fans will not be disappointed to have found a spiritual heir."
The Times, London

While 'African Dawn' is a work of fiction many of the things that happen to the characters either happened to people I know or they're based on real incidents.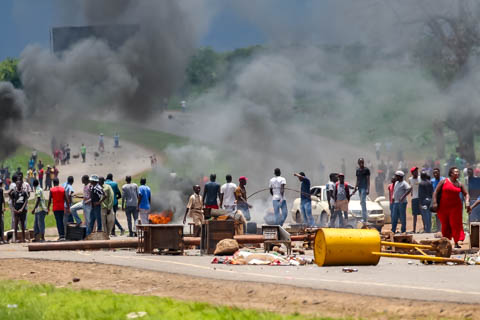 Political unrest in Zimbabwe

The book also looks at the history and politics of Zimbabwe. It's impossible to make sense of what's happening today in this tragically beautiful county without understanding how it got to where it is.

'African Dawn' is my biggest book, not only in terms of word-count but also the scope of time, history, politics and emotions that I tried to cover when writing it.

I really hope there's a happy ending to the story of Zimbabwe some day soon.