Synopsis
Rhodesia, 1943: Paul Bryant hasn't been able to get back in a plane since a fatal bombing mission over Germany. So, instead, the Squadron Leader is flying a desk at a pilot training school at Kumalo air base. But one of his trainees has just been reported missing.

Pip Lovejoy, a volunteer policewoman, is also trying to suppress painful memories. When Felicity Langham, a high profile WAAF from the air base, is found raped and murdered, Pip and Bryant's paths cross.

Suspicion immediately falls on the local black community, but Pip's investigations unearth a link between the Squadron Leader, the controversial heiress Catherine De Beers and the dead woman, which throws the case in a new, disturbing direction.

What Pip thinks is a singular crime of passion soon escalates into a crisis that could change the course of the war.

'Gripping action thrillers...never disappoints as a storyteller' Daily Telegraph

Behind the Scenes

I met a lovely lady, Esme, in Bulawayo, Zimbabwe, who on learning I was Australian told me she had known several Aussies during the Second World War, when she was in her late teens and early twenties.

The Australians Esme was talking about were trainee pilots, who were sent to Southern Rhodesia, as Zimbabwe was then known, to learn to fly. At the time an ambitious international effort known as the Empire Air Training Scheme was underway where young men from throughout the British Empire were shipped to Africa, Australia and Canada for their training.

The flight schools were located deliberately in areas with wide-open spaces and empty skies.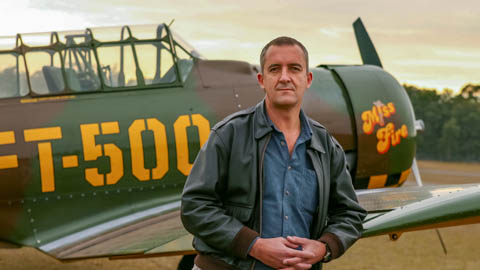 Researching a book can be fun. Here I am (several years ago with a nice head of hair) checking out a vintage Harvard training aircraft, the type that features in my Second World War drama, African Sky. It was even more fun for my wife who went for a joyride. Her experiences were partly recalled by plucky Pip Lovejoy, the book's leading lady.

I asked Esme what life was like during the war.

"Wonderful," she laughed. "I didn't go without a date for a single night between 1940 and 1945!"

While these were exciting times for a girl in a country town Esme told me that the horrors of war reached even her homeland, which was nowhere near any fighting. Of the 600 Australians who went to Rhodesia to learn to fly 60 died in training accidents. Sadly, this 10 per cent loss rate was typical for the time.

Esme told me that one of her friends, an Australian named Bob, was buried in the Bulawayo cemetery.

As a former serviceman I decided to go and pay my respects. Amidst the overgrown and overfilled municipal graveyard was a tiny fenced-off oasis of pristinely maintained calm. The Commonwealth War Graves Commission is charged with the care of war graves throughout the world and they do so with uniform care and respect.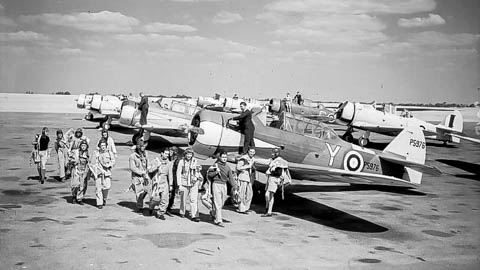 Royal Air Force, the Rhodesian Air Training Group in Southern Rhodesia

Inscribed on the rows of a identical white tombstones were the names of Australians (including Bob), New Zealanders, Canadians and others from a range of allied nations who had all died during pilot training.

Except for one.

Among the young men was the grave of a young woman, a Leading Aircraftswoman, a local girl who had served with the South Rhodesian Women's Auxiliary Air Force.

I had no idea what had happened to her, but there she was, a casualty of war who had died in the service of her country.

A chill went down my spine. This is where books come from.