Synopsis
Deep underground in the Eureka mine, South Africa's zama zamas illegally hunt for gold. King of this brutal underworld is Wellington Shumba – a man who rules his pirate miners through fear of torture and death.

Running Eureka's legitimate operation is former recce-commando Cameron McMurtrie. When one of his engineers is taken hostage, Cameron does not hesitate to mastermind a dramatic rescue – and finish it off with a manhunt for Wellington. That is until corporate interference from the mine's Australian head office, in the shape of ambitious high-flyer Kylie Hamilton, gets in his way.

Doctor Hamilton is visiting South Africa supposedly to finalise a new mine on the border of the famed Kruger National Park, but instead she and Cameron are forced into a partnership to fend off an environmental war above ground, and a deadly battle with a ruthless killer below.

Cameron and Kylie have become Wellington's prey. They must unite – their lives depend on it.

"Another ripping yarn"
Daily Telegraph

Behind the Scenes

A few years ago – and a couple of years before I wrote 'The Prey' – I read a feature in South Africa's Sunday Times newspaper about the problem of illegal gold mining.

Zama Zamas – which means 'chancers', or 'to take a chance' – are miners who live and work illegally underground in established gold mines, often virtually alongside legal miners.

Some of these miners, who are often illegal immigrants from countries such as Zimbabwe and Mozambique, stay underground for months at a time. It's a dangerous way to make money, with little or no attention paid to safety, and many die in explosions and other accidents.

Mining companies often have to make matters into their own hands to tackle this problem – the South African Police don't have the expertise to go underground and tackle desperate criminal miners who are often armed with AK 47 assault rifles and explosives.

This, of course, seemed like a great idea for a contemporary action thriller and I mentally filed it away for a couple of years.

When I was ready to start writing I needed to learn more about the problem of Zama Zamas and illegal mining. I find the best way to research something is not to scour the internet for hours and hours, but to look for an expert and then contact them as ask for assistance.

I got lucky – the first mining company I contacted put me in touch with one of their senior people who managed a gold mine in the historic town of Barberton, not far from where I live in South Africa.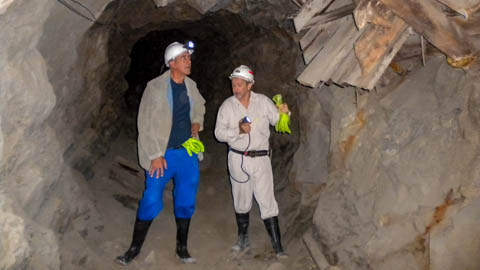 I went underground while touring a gold mine at Barberton as part of my research for The Prey. That's me on the left in the gum boots.

He took me underground and explained the nature of the problem. As with many things in Africa, truth was even stranger than fiction.

To put the issue into perspective there were 300 legal miners working in this guy's mine, but at the height of his troubles with Zama Zamas there were about 900 illegal miners (three times his workforce!) living and working underground in his mine.

The mine manager and I became good friends and through him I ended up buying my house in South Africa. It's situated in the bush, surrounded by animals, in a private nature reserve on the edge of the Kruger Park (my friend the mine manager has a house there as well).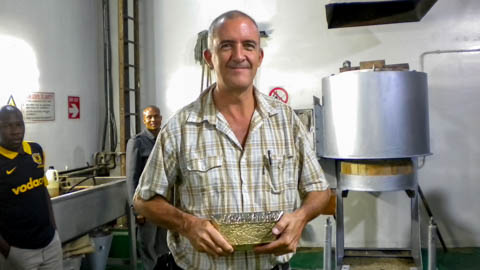 This is what all the fuss is about - me holding a freshly smelted gold bar. Illegal miners in South Africa live and die underground for this stuff.

My fictitious mine manager, Cameron McMurtrie, has a house in the Hippo Rock Private Nature Reserve in 'The Prey' and a bit of action happens there when he tangles with the lord of the underground Zama Zamas, the evil Wellington Shumba.

Hippo Rock is fictitious, but it bears an uncanny resemblance to where I really live. You'll find references to it in a couple more of my books, as my real life in Africa occasionally crosses paths with my make believe characters...