Synopsis
When a young American research assistant is killed by a man-eating lion, three people are devastated – Jed Banks, an American Special Forces soldier serving in Afghanistan; Professor Christine Wallis, a wildlife researcher in South Africa; and Hassan bin Zayid, a hotel magnate in Zambia. The victim, Miranda Banks-Lewis, was their daughter, protegee and lover respectively.

Desperate to find out what happened to Miranda, Jed and Christine, with the help of a determined Australian journalist, set out on a perilous journey of discovery in Africa. Forced to pit themselves against the continent's dangers, they will also learn shocking truths about the woman they thought they knew.

"He just gets better and better. His descriptions of the southern African bush and mountain jungles are so vivid you can just about feel the sun on your skin and smell the dust and animals."
Sun Herald

A superb successor to the bestselling Far Horizon, Zambezi is an unputdownable novel of love, loyalty, betrayal and revenge set against the magnificence and terror of Africa.

Behind the Scenes

I was serving with the Australian Army in Afghanistan when I learned that my first book, 'Far Horizon' was to be published. My publisher (who didn't even know I had gone off to the war) told me via email that I was to be given a two-book deal, so I'd better get busy writing a second novel.

I spent most of my time in Afghanistan in a desk job. Behind the lines (not that were any actual 'lines' in that conflict), war can be a tedious business. I had the privilege of serving with some of the finest military people in the world and my job as a public affairs officer was to write stuff about what they were up to.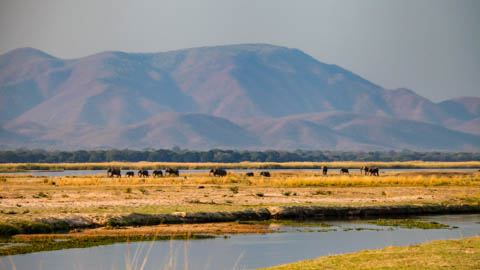 The Lower Zambezi River, looking from Zimbabwe across to Zambia at Mana Pools National Park. This is the spot where Miranda Banks-Lewis goes missing. It's one of the most beautiful places in Africa.

In my down time I read and, once I found out my lifelong dream of being published was going to come true, I wrote.

'Zambezi' is about an American soldier serving in Afghanistan who travels to Zimbabwe in search of his missing daughter. I started writing that book in a bombed out old Russian aircraft hangar at Bagram Air Base, about 60 kilometres from the Afghan capital, Kabul.

The action in 'Zambezi' moves from Afghanistan to the Lower Zambezi Valley in Zambia and Zimbabwe, with a side trip to the island of Zanzibar, because that is where I headed very soon after my tour of duty in Afghanistan was up.

Even on idyllic Zanzibar the world events I was seeking to escape caught up with me. The island is predominantly made up of Muslim people and there was some quite vocal opposition there to the invasion of Iraq, which happened soon after my military service was over.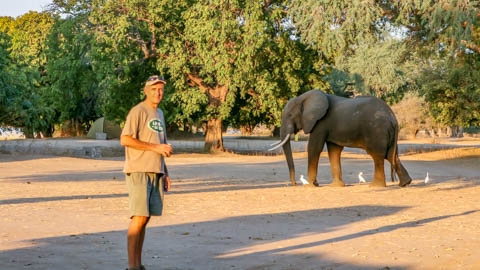 Me with one of the locals at Mana Pools National Park, Zimbabwe, the setting for Zambezi.

While I was still in Afghanistan an Israeli airliner had been fired upon after taking off from Mombasa Airport in Kenya, by terrorists armed with a surface-to-air missile. It seemed that not even my beloved Africa could escape the global war on terror.

I did manage to get away from it all, on the banks of the Zambezi River in a self catering lodge in Mana Pools National Park, Zimbabwe, one of my favourite places in the world. Jed and Christine, two of the lead characters in the book, also enjoy some quality time in that lodge.

Amidst the shooting and terror in 'Zambezi' you'll also find, I hope, a place of peace and natural beauty. A true paradise on earth.