Tony Park
Books of Africa
Events

I'll be doing a number of public speaking gigs to promote Rhino War and The Pride in the coming weeks and months. A few are listed here, below, but there will be more. Please standby for another newsletter or follow me on Facebook, Instagram and Twitter as @tonyparkauthor for more details:

August 10


Byron Bay Library, Corner of Lawson and Middleton Streets, Byron Bay NSW 2481 - 10:30am
Click here to book your ticket (free)

August 10


Ballina Library, 8 River Street, Ballina NSW 2478 - 6:00pm
Click heere to book your ticket (free)

August 11


Tweed Heads Library, Corner Brett and Wharf Streets, Tweed Heads NSW 2485 - 11:00am
Click here to book your ticket (free)

August 11


Carindale Library, Westfield Carindale, 1151 Creek Rd, Carindale QLD 4152 - 6:00 to 7:00pm
Bookings Essential - Ph (07) 3407 1490


August 16


Cairns City Library, 151 Abbott St, Cairns City QLD 4870 - 6:00pm
Event Link

August 17


Smithfield Library, 70 Cheviot St, Smithfield QLD 4878 - 10:30am
Event link


August 22


Ipswich Library, Ipswich City Council building, 1 Nicholas St Ipswich QLD 4305 - 6:30 to 7:30pm


August 23


Victoria Point Library, 7/15 Bunker Rd, Victoria Point QLD 4165 - 11:00am
Bookings (free)


August 23


Caboolture Library, 4 Hasking St, Caboolture QLD 4510 - 5:00pm
Bookings (free)


August 25


The Barns of Freeling, 140 Templers Rd, Freeling SA 5372 - 6:00pm
Registration


August 26


Murray Bridge Library, 2/51 South Terrace, Murray Bridge SA 5253 - 10:00am
Event Link


August 26


Payneham Library, 2 Turner St, Felixstow SA 5070
TBA
Bookings


August 27


Painted Dog Conservation Inc Fundraiser, Backlot Cinema, 21 Simpson Street, West Perth
6:30pm – 8:30pm
Tickets - $70 (includes copy of 'The Pride')


September 01


Sutherland Library, 30/36 Belmont St, Sutherland NSW 2232 - 6:30pm to 8:00pm

Please remember to RSVP where required and double check times, dates and venues.

Stay tuned for more events and more dates.

If you'd like me to speak at your town, have a chat to your local library or bookseller and see if they're interested in organising something – tell them I told you to!

If you'd like to check my availability feel free to drop me a line to tonyparknews@gmail.com

Public Speaking

Unlike some authors who are nervous Nellies and shy away from public speaking I love it!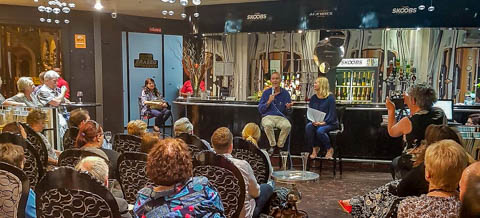 I do a round of public speaking events for the release of every new novel, but I'm always happy to talk at libraries, bookstores, writers' groups, book clubs, community groups and charity events at any time of the year.

---