Synopsis
Sonja Kurtz – former soldier, supposedly retired mercenary - is in Vietnam carrying out a personal revenge mission when her daughter sends a call for help.

Emma, a student archaeologist, on a dig at the edge of Namibia's Etosha National Park has discovered a body dating back to the country's liberation war of the 1980s.

"Park writes with vigour and the story unfolds at a steady pace with plenty of action and gunshots"
THE CANBERRA TIMES

The remains of the airman, identified as Hudson Brand, are a key piece of a puzzle that will reveal the location of a modern day buried treasure - a find people will kill for. Sonja returns to the country of her birth to find Emma, who since her call has gone missing.

Former CIA agent Hudson Brand is very much alive and is also drawn back to Namibia to finally solve a decades-old mystery whose clues are entombed in an empty corner of the desert.

Behind the Scenes

As far as possibly I set the action in my books wherever I happen to be in Africa when I'm writing.

Sometimes I move the story to match where I'm travelling and sometimes I travel somewhere because I want to write a story set where I'm heading (and write the trip off on tax).

I'd had a couple of short trips to Namibia over the years and had a hankering to spend some more time there. As fate had it I ended up taking an organised tour of readers to Namibia and then travelling there with my wife a while later, in the same year. So it seemed natural to set a book there.

Namibia is an incredibly country. It has amazing scenery, bountiful wildlife, a rich history, diverse cultures living side-by-side, and exceptionally good beer (thanks to its German colonial heritage). It ticks lots of boxes as a travel destination.

Namibia's wild Skeleton Coast, where much of An Empty Coast takes place. This is seriously middle-of-nowhere country, but starkly beautiful.

One of my most popular leading ladies (perhaps the most popular) is Sonja Kurtz, a Namibian-German former soldier and mercenary and all round kick-ass, badass girl. After her debut in 'The Delta' I had quite a few readers say that they'd like to see her come back.

So, Sonja and her latest love interest, Hudson Brand, accompanied me on a couple of trips around her homeland.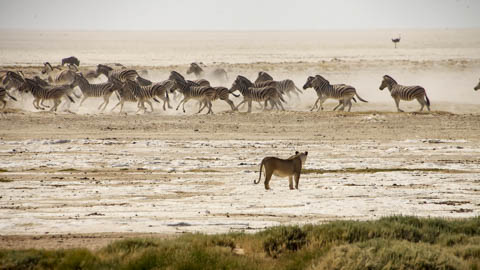 Lion and zebras in Etosha National Park, Namibia, where Sonja's daughter uncovers a dead body.

As I was getting ready to visit Namibia there was a story in the media that a number of rhino horns had been seized at Windhoek Airport. The interesting thing was that the horns were old and had not, apparently, been taken from any local Namibian rhinos. They had come from somewhere else. That sounded like a mystery I could explore in a novel.

While South Africa has an enviable record of wildlife conservation and protection (the best on the African continent as far as I'm concerned), there was a dark period during the border war that was fought between Apartheid-era South Africa and pro-independence left wing guerrillas and Cuban troops in Angola. The South African Defence Force was allegedly involved in rhino and elephant poaching during the conflict.

The premise for An Empty Coast is that a valuable cargo of rhino horn went missing during that war, back in the 1990s, and some of it starts appearing on the market in the present day.

Endangered black rhinos in Namibia. The sad plight of these animals is part of the plot for An Empty Coast.

Sonja has a feisty daughter, Emma, and I wanted to bring her back in 'An Empty Coast'. I get to live life vicariously sometimes through my characters so I brought Emma back doing the one job (other than anti poaching helicopter pilot) that I would have liked to have done, other than writing books – Emma is a battlefield archaeologist.

Emma and her fellow students dig up a body, which leads them on a quest to find the missing treasure. A cargo of rhino horn these days is worth a not-so-small fortune so there are plenty of baddies on the trail as well.

Introduction Video

Sonja, Hudson, Emma and Co follow the same path as my travels and 'An Empty Coast' takes in the most stunning parts of Namibia, from wildlife-rich Etosha National Park to the remote north-west of the country and the starkly beautiful Skeleton Coast, where the chilly waters of the Atlantic collide with burning desert sands.

Get your Sonja on and join us in Namibia.