Synopsis
Afghanistan veteran Sean Bourke's world explodes when an IED detonates in South Africa's Sabi Sand Game Reserve.

On a routine anti-poaching patrol, Sean and his tracker dog Benny watch in horror as over-eager rookie Tumi Mabasa is almost killed and her dog gravely injured in the explosion.

Along with Tumi and best mate Craig Hoddy, Sean is determined to hunt down the elusive bombmaker who has introduced this destructive weapon to the war on poaching.

But Sean is his own worst enemy. Haunted by nightmares of the war and racked with guilt from driving away his ex-wife, Christine, he soon discovers she and Craig are in the midst of an intense affair.

And there's another enemy at play...

"No modern author writes with as much knowledge, conviction and love of the Southern Africa of today as Aussie veteran army officer Tony Park"
CRIME REVIEW

Behind the Scenes

My wife and I live half the year in South Africa, where we own a house in a private nature reserve on the edge of the Kruger National Park. It's impossible to enter the park these days or spend time in it without seeing dogs.

I'm not talking about wild dogs, though these are great to see, but rather working dogs.

The problem of rhino poaching is big in the Kruger Park, mostly because it has the largest population of wild rhinos in the wild, and a war is being fought to protect these endangered animals

It turns out that man's best friend, the dog, is a poacher's worst nightmare.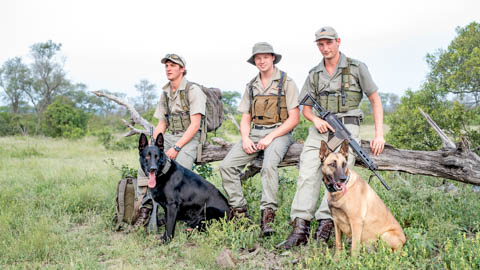 Rhino horn is worth more than gold, diamonds and cocaine in parts of Asia, especially Vietnam, where it's prized as a status symbol and for some obscure medicinal properties (though it is not, contrary to popular belief, used as an aphrodisiac).

Heavily armed poachers have taken a toll on the rhinos, but anti poaching dog teams are proving extremely successful in catching poachers and deterring them.

The idea for Scent of Fear came from simply seeing these amazing dogs at work. Dogs are a factor in 90 per cent of all arrests of poachers in the greater Kruger Park. Individual dogs and their handlers have caught as many as 100 poachers each.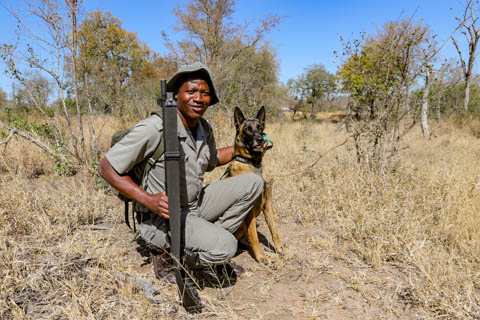 While I was researching this book I received some fantastic help from K9 Conservation (http://www.k9conservation.co.za/) at Hoedspruit, South Africa, and a an international non government organisation, Canines for Africa (https://www.k94a.org/) which raises money to train anti poaching dogs and handlers.

Inside the Sabi Sand Game Reserve I was helped by a real life anti-poaching dog unit serving on the front line in the war against poaching.

Inside the Kruger Park the South African National Parks Honorary Rangers do a fantastic job of supplying, housing and training anti poaching dogs and their human comrades.

Introduction Video
It was fascinating to learn about the different types of dogs used in this ongoing war to protect wildlife. Belgian Malinois sheep dogs are used to track and catch poachers; weimaraners are used to track animal parts, such as rhino horn and elephant tusks and blood trails; and bloodhounds are used to pick up the scent of poachers at 'cold case' sights, where a rhino may have been killed several days earlier but only just discovered.

Everyone likes dogs, right? I hope you like Scent of Fear.