Synopsis
Former Australian Army officer Mike Williams is trying to forget a troubled past – with a carefree existence as an overland tour guide in Africa. But then one day on the road, he receives word that the South African Police have some news for him.

A bloody and tragic run-in with ivory hunters in Mozambique the year before had left Mike's world in shreds. But now the authorities are on the poachers' trail and they need his help to catch them.

Tenacious English journalist Sarah Thatcher is along for the ride, and insists on becoming involved. Mike must choose between his duty to keep the young tourists in his care safe and his hunger for retribution. Sarah will risk anything and anyone for a story, but never could have predicted the trouble she would find herself in.

The murderous hunters and the innocent travellers are on a parallel journey through Africa's most spectacular locations. Eventually their paths will cross and Mike will have his shot at revenge. but at what cost?

"a compelling and fascinating read"
Sunday Tribune (South Africa)

Behind the Scenes

I left full time work in 1996 to write a novel and I failed. Well, I did write a novel, set in Australia, but it was a failure and never saw the light of day.

I went back to work, part time, because by this time my wife and I had 'discovered' Africa and were spending more and more time travelling there.

I decided to start work on another novel during our third trip to Africa, a four-month adventure in which we would drive around in an old Land Rover we had bought and shipped from the UK (where we were also both doing some part time work).

I had no idea where we would end up on this trip. The 'plan' was that there would be no plan, that we would go wherever we felt like, making up our safari itinerary day by day.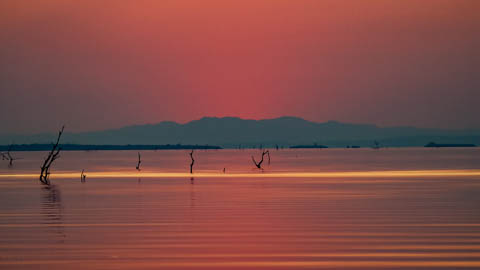 Part of the action in Far Horizon takes place around Zimbabwe's Lake Kariba. It's one of the best places to view a sunset in Africa

I realised that one of the things I had done wrong with my first novel (or rather, something that didn't work for me) was that I had plotted it – that is, I developed a framework or blueprint for the story and its characters before I started writing. This is a perfectly valid way of writing and book and many (perhaps most) authors write this way.

It didn't work for me.

Where was the fun, I thought, in writing a book whose story, ending and characters you knew even before you began writing the main part of the book?

On that four-month trip around Africa I decided that my next attempt at writing a book would not start with me agonising over a plot. I sat down outside our tent in Pretoriuskop Camp in the Kruger National Park and just started writing.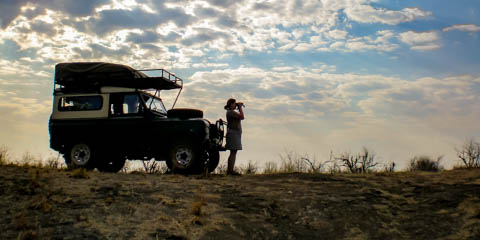 In 1998 my wife and I bought an old Series III Land Rover and it was while driving this truck around southern Africa that I wrote my first novel, 'Far Horizon'

In the campground was an overland tour truck full of young backpackers setting out on the trip of a lifetime. I decided to write a story about one of these trips. My fictitious band of tourists would follow whatever route my wife and I followed on our travels.

Each day as we packed our tent and moved so, too, did my overland truck full of travellers change location.

At the end of that four-month trip I had another manuscript finished. Unlike my first attempt at writing, which I had found difficult, frustrating and unenjoyable, I found I really liked the process of making a story up one day at a time.

A publisher at Pan Macmillan Australia liked my story as well and after quite a few revisions and edits (during which I learned a great deal about writing), that manuscript was published at 'Far Horizon', my first novel. The rest, as they say, is history.

Join me, in 'Far Horizon, on my first big adventure around southern Africa.