Synopsis
An increasingly volatile Zimbabwe and the jungle-clad mountains of the Democratic Republic of Congo is where a dangerously charged game of cat and mouse plays out in Africa's wildlife wars.

Canadian researcher Michelle Parker cannot resist the opportunity to make contact with the famed mountain gorillas, but she is wary of the man giving her this chance – professional big-game hunter, Fletcher Reynolds.

Fletcher represents all Michelle has fought against – the slaughter of animals for material gain – but she finds herself increasingly drawn to his power and is reassured by his apparent support for the stamping out of poaching.

Into this mix steps ex-SAS officer Shane Castle. He has been recruited by Fletcher to spearhead the anti-poaching campaign. Shane is a man who has seen what bullets can do – to both human and animal – but is also a man who makes Michelle start to doubt the choices she has made…

"Tony Park is one of Australia's best thriller writers and his African-based novels are consistently entertaining and thought-provoking."
Canberra Times

Behind the Scenes

Poaching – the illegal killing of wildlife - is a big problem in Africa and one day over a few beers with some friends (lots of good ideas start that way) I came up with a novel way to stop poachers.

What I can tell you is that I started writing 'Safari' where the story begins (which is how I write all my books, on location) in a place called Nantwich Camp, in Hwange National Park, Zimbabwe.

Nantwich was, and is, a slice of paradise. At the time it was a self-catering national parks camp, with three two-bedroom lodges overlooking a waterhole. As Zimbabwe was short of food, fuel (and pretty much everything else at the time). I holed up there for several weeks and wrote a good chunk of the book.

For a variety of unfortunate reasons and circumstances Nantwich eventually fell into ruin and was abandoned. Part of it burned down.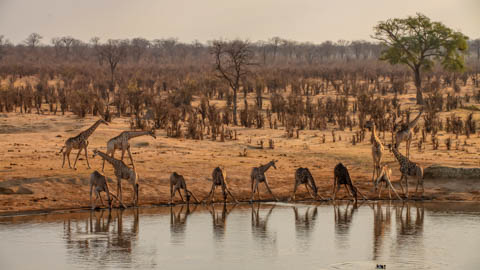 The first half of Safari takes place in Hwange National Park, Zimbabwe. Waterholes like this one are teeming with wildlife in the dry season.

However, some friends and my wife and I have invested in the rebuilding of the camp and it has now opened as a commercial luxury safari lodge. You can read more about Nantwich here.

In the book we meet idealistic wild dog (aka African Painted Dog) researcher Michelle Parker, roguish older-guy professional hunter Fletcher Reynolds, and troubled military veteran turned anti-poaching ranger Shane Castle.

I wanted to write a book that looked, at least in part, at the role of hunting in Africa. Many hunters who I know are also ardent conservationist and in the novel Fletcher offers to share some of his profits with Michelle to bankroll her research.

Michelle has to decide if she can live with the fact that her much-needed funding comes from the proceeds of trophy hunting.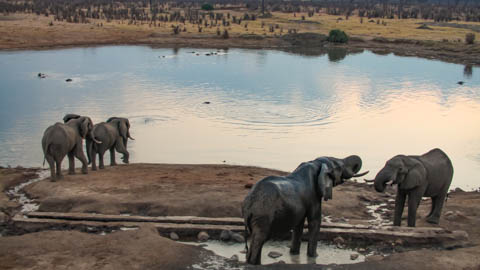 Hwange National Park is famous for its elephants. This is the sort of wild, dry country where Shane Castle, Michelle Parker and Fletcher Reynolds get up to all sorts of lust (and other stuff) in the dust.

Shane is an Australian Army veteran of the wars in Afghanistan and Iraq and there are, in fact, several ex military people of his pedigree currently working in different parts of Africa in anti-poaching roles.

I love this part of north-western Zimbabwe, where much of the book plays out and if you're an eagle-eyed reader with a better memory than me then you might notice that this area also features 'African Sky' and 'African Dawn'. If you're totally obsessed by trivia then you may be interested to learn (if you haven't guessed already) that Fetcher Reynolds' safari lodge is the same house owned by kinky Catherine de Beers in 'African Sky'.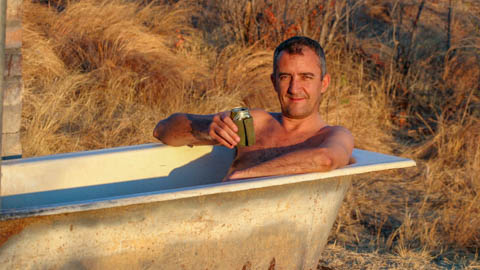 Here I am living the high life in the outdoor bath at Nantwich Camp in Hwange National Park. A couple of characters in Safari get up to more than just drinking beer in this very tub...

One of the best things about the old Nantwich Camp was its outdoor bathtubs and we saved and renovated these for the new lodge. Two characters (I won't say which) get up to some hanky-panky in one of these tubs – perhaps the very same one that I'm having a beer in, in the picture on this page.

Too much information? Definitely.