Synopsis
Alex Tremain is a pirate in trouble. The two women in his life – one of them his financial adviser, the other his diesel mechanic – have left him. He's facing a mounting tide of debts and his crew of modern-day buccaneers, a multi-national band of ex-military cutthroats, are getting restless. They don't all share his dream of going legit, but what Alex really wants is to re-open the five-star resort hotel which once belonged to his Portuguese mother and English father on the Island of Dreams, off the coast of Mozambique.

A chance raid on a wildlife smugglers' ship sets the Chinese triads after him and, to add to his woes, corporate lawyer Jane Humphries lands, literally, in his lap.

Another woman's the last thing Captain Tremain needs right now – especially one whose lover is a ruthless shipping magnate backed up by a deadly bunch of contract killers.

What Alex really needs is one last, big heist – something valuable enough to fulfil his dreams and set him and his men up for life.

When the South African government makes a controversial decision to reinstitute the culling of elephants in its national parks, Alex finds the answer to his prayers, but at what cost?

"Clearly, Park knows and loves Africa. ...a thrill ride that won't disappoint."
Kirkus Review of Books (US)

Behind the Scenes

What is it about pirates?

They're murdering, blood thirsty criminals who terrorise the world's shipping lanes, yet still they've found a soft spot in in the hearts of readers for generations.

In recent years modern day piracy has been a big problem off the coast of Africa) and it struck me, while lazing on a beach in the Kenyan port city of Mombasa and watching a Royal Navy frigate sally forth as part of the international effort to combat piracy that it was high time I took to the high sees and wrote a book about it.

(Note that a certain Mr W. Smith had a similar idea and also wrote a book about modern day piracy, but mine came out first).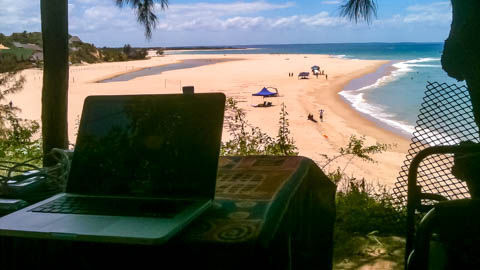 Researching books can be hard work and I had to spend an extensive amount of time on the beach in Mozambique to get a feel for the settings for my novel Ivory. Here's the view from my mobile field office.

I never have a plot for my books, I just start with a premise. Car theft is a big problem in southern Africa and I had it in my mind that my book would start with my pirates (who would be based off the coast of Mozambique) hijacking one of those enormous car carrier ships, which would be loaded with luxury 4x4 vehicles.

As I started writing about this gang of Buccaneers running a ship aground and driving off with all these expensive cars I thought to myself: "No, you've gone too far. This is ridiculous, even for a novel".

I turned on the radio later that day (this is a true story, by the way), and on the BBC World Service's Africa program there was a story about a gang of Somali pirates hijacking a ship full of battle tanks bound for the Kenyan Army. Well, I thought, if real life pirates can steal a ship full of armoured vehicles, then mine can boost some cars!

This old ruined Portuguese hotel on Paradise Island, Mozambique, provided the inspiration for pirate Alex Tremain's hotel on the fictional Ilha dos Sonhos in Ivory.

My pirates, personified by my pirate king, handsome though battle-scarred former Royal Marine Commando Alex Tremain, would be likeable rogues, in the proud tradition of Errol Flynn, Douglas Fairbanks, Johnny Depp et al. They would steal (just enough for Alex to renovate his parents' old hotel), and would not kill or pillage.

At the time I was writing 'Ivory' there was much debate about the growing elephant population in South Africa's Kruger National Park.

It's a frustrating fact that while elephants are endangered across the continent of Africa, in reserves where they are well protected they tend to breed like crazy, often at the expense of natural vegetation and other species. There are occasionally calls for the controversial practice of elephant culling to be brought back. (It hasn't happened yet).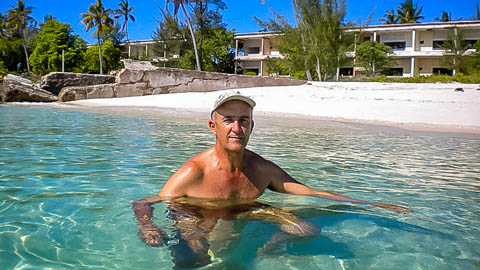 Always a stickler for research, I took to the waters at Paradise Island in front of the abandoned hotel. This is where Alex Tramain takes a dip to cure his hangover at the beginning of Ivory.

It seemed to me that Africa's 'white gold', ivory, might make a fitting modern day treasure for my pirates to get tangled up in. Alex the pirate has the opportunity to steal a fortune in ivory and that, along with many other aspects of his life of crime, presents him with some serious moral dilemmas.

It's all a flight of fancy of course, and highly unrealistic, but for goodness sake it's a pirate story! Incidentally, Australian online book retailer Booktopia once voted 'Ivory' one of the top 10 sexiest books in Australian fiction.

Settle back, grab a bottle of rum and a cat o'nine tails and prepare to have your timbers shivered. I hope you enjoy this book as much as I enjoyed writing it!