When should I go?

The textbook answer to this question – for southern Africa at least – is the end of the dry season (September-ish) when the vegetation has thinned out and animals are congregating around the last remaining waterholes, making game viewing easier.

Other factors to consider are school children and pensioners. Kruger, Etosha and other major national parks and touristy areas become very busy during the South African school holidays (in particular in September), and June-July, when grey nomads colonise large chunks of the region in their caravans.

My favourite time to visit is the last two weeks in October (after the school holidays and before the rains begin in earnest, though it is hot).

In East Africa the migration moves from Tanzania to Kenya and back again. From experience it's pretty good in Kenya around August, and in Tanzania in February

Tony's take: it's all good, whenever you go, but avoid kids and caravans.

Self drive

This is how I discovered Africa, in a rented two-wheel drive Corolla. It's cheap, easy, fun and as safe as your driving skills make it.

Packing a tent is the cheapest way to go on safari. Campsites in South Africa and Namibia are surrounded by electric fences, so there is very little risk of being eaten by lions. You can buy food, drinks, pots, pans etc at shops in the major parks.

All of the major car hire firms have offices in all major cities in southern Africa and rates are cheap by world standards. Rental four-by-fours, equipped with roof-top tents and all manner gadgets look cool, but they're comparatively expensive and there are actually few places in southern Africa where you'll actually need all four wheels turning at the same time.

How should I go?

This is the $64,000 question, and if you're not careful (or if you are careful, but extremely rich) your safari could cost you this much. It comes down to one of three basic choices, which are, in order of expensiveness: self drive, tour group, or private reserve/lodge.

Camper vans are another option, but check the costs carefully – it might be cheaper to rent a car and stay in national parks rondavels (Afrikaans for round house, a small hut) than parking your camper in a camp ground.

A word of warning: whatever you've read or been harangued about in relation to crime, killer animals, malaria and other dangers in Africa, by far the biggest risk you can take is to get behind the wheel of a car. Roads are excellent in southern Africa, but people drive very fast. In East Africa the roads are, by and large, crap, and people drive very fast.

Tony's take: self drive is a good way to go – unless you're a chicken or a bad driver.

Tour groups

There are hobos (Shona for lots) of tour companies of all sizes and prices operating throughout Africa. Some involve guests camping and pitching in with chores, while others have small armies of people to do these mundane chores for you.

Readers of my first book, Far Horizon, will know that overland tours (usually involving a large truck and a large number of backpackers) involve drinking, sexual references, coarse language, medium level violence and occasional gun battles with poachers. Just joking – there's rarely violence.

Cost wise, I reckon that if you are in a group of two or more it may be cheaper to rent a car and do your own thing. If you're a lone backpacker looking for adventure (and/or romance), then a big garishly painted overland truck may be for you.

Tony's take: you're either into group action, or you're not.

Private game lodges (and reserves)

There are a number of privately owned game reserves in southern Africa. Within some national parks there are privately-run concessions, which usually comprise a luxury lodge and a patch of land dedicated to that lodge. In East and southern Africa there are usually private lodges on the borders of national parks.

If you've only got a short time on holiday, have a healthy credit card balance, and you're not keen on driving yourself or sharing a truck with people with beads in their hair, then a private safari may be for you.

In the private reserves and concessions the rangers who take you for (usually two) game drives per day on sexy open-top Land Rovers or Land Cruisers generally have a pretty good handle on where the interesting animals are hanging out. They're in contact with each other by radio (allowing them to share sightings) and sometimes send out spotter vehicles to track down the good stuff.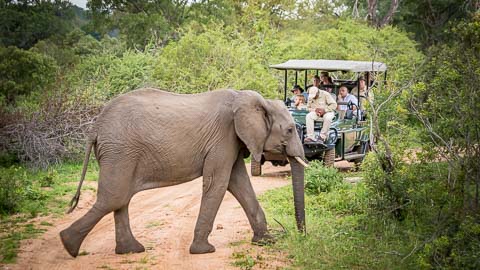 You pay for what you get. In top end luxury lodges, especially in South Africa, you can get aircon, spa baths, widescreen TV, and a private deck with your own personal heated swimming pool.

---