Synopsis
In Afghanistan, sometimes all that stands between coalition troops and death or serious injury is a dog.

Highly trained dogs and their handlers search for improvised explosive devices or hidden weapons out on patrol with combat troops.

It's a perilous job, often putting them right in the firing line, and making them high priority targets for the Taliban insurgents they're fighting.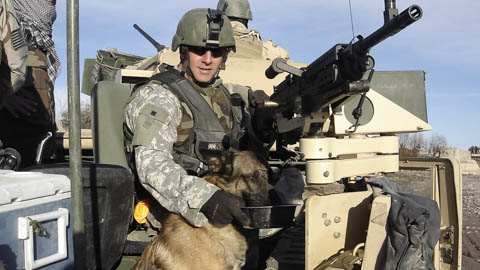 Shane Bryant, a former Australian Army dog handler, spent 10 years in Afghanistan working with elite American special forces and training other handlers and dogs. War Dogs is his story – a riveting true account of the hidden war in the mountains and cities of the world's most dangerous conflict, and the comradeship between man and dog that has saved numerous lives.

This re-released and updated edition of War Dogs looks at the effects a decade of service as a contractor had on Shane, his personal life and his mental health as he faced new enemy, post-traumatic stress disorder.

Introduction Video
Behind the Scenes

Back around 2008 or 2009, a few years after I had served in Afghanistan with the Australian Army, an old military buddy of mine told me an interesting story about another Aussie, who was serving with the US Special Forces in Uruzgan Province.

My friend was serving in Afghanistan as a military contractor; we had met several years earlier while I was researching my first novel, Far Horizon. Like Mike Williams, the lead character in that book, my friend had served in Mozambique with the United Nations team clearing the country of landmines.

The guy my friend had identified as a possible subject for a book was Shane Bryant, a former Australian Army and New South Wales Police dog handler. Shane was working in Afghanistan as a civilian contractor, providing much needed support to the US 'Green Berets' as an explosive detection dog handler, searching for improvised explosive devices (IEDs).

I thought this sounded like a great idea for a book. When I made contact with Shane he asked 'why me'? To him, he was an ordinary bloke just doing the job he was trained for. That, I learned, was one of Shane's many strengths – his humble, yet professional attitude.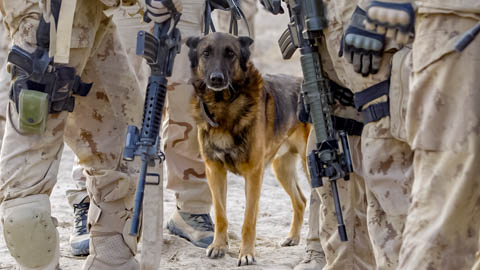 Shane agreed, eventually, that we should team up and write a book about his time in Afghanistan and how he had ended up there. The more I learned, the more amazed and impressed I was.

Shane had seen plenty of action and had his share of narrow escapes. He had seen friends – and dogs – wounded in action, and some had paid the ultimate price.

Unlike 'normal' soldiers who go off to war for a set period (I served six months in Afghanistan, but some later rotations of Australians served eight months or more) Shane's involvement in the war, as a contractor, had no time limit.

As it happened he served 10 years in Afghanistan!

Anyone who has been in uniform knows that the demands of the military, even in peacetime, can put a strain on relationships. Shane also found his personal life came under stress, as did his relationship with his children from two ex partners.

Shane's is not just a story about men and dogs at war – though that is fascinating enough, especially the bond that develops between dogs and their handlers – but also of a whole new way of waging war and the toll it takes.

War Dogs was first released in Australia in 2010, but Shane went on to serve several more years after that.

We decided to re-release an expanded and updated version of Shane's story this year (2020) not only to reach a worldwide audience, but to highlight the hidden problems of this new breed of warriors, many of whom have suffered physical and mental wounds from their time at war in places such as Iraq and Afghanistan, but are at risk of falling through the cracks.

In this new edition, Shane talks honestly and bravely about his battle with post-traumatic stress disorder, and the effects that a decade of war took on him and his family. With the support of his friends and loved ones he is doing OK.

I hope you like this ordinary bloke's extraordinary story.